Elegant Ester & Erik Candles
When we were deciding which candles to offer to The Luxe Collection clients for their special occasions we rapidly decided that Ester and Erik candles were the perfect choice.
Taper candles are an elegant way to set the mood for a wedding or create the ambience for a significant event. Erik and Ester candles are a fantastic contribution to the character of your wedding, they can be used to:
focus attention on the aisle and altar or other celebration point
link your wedding venue to your reception through choosing the same colour-scheme
make centrepieces for your table-scape.
Erik & Ester taper candles for wedding colour and mood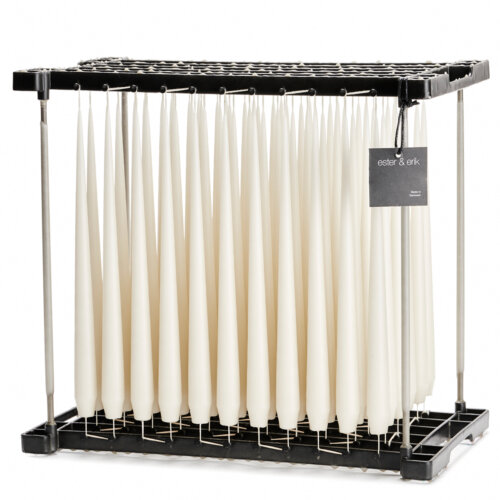 Colour is a significant element which is why we chose Ester & Erik candles as our partners. They offer 88 colours, including gold, silver and champagne so that there is something for every style of wedding from the simplest event to the most baroque decor imaginable. They are equally good for matching the tone of corporate events or other special occasions, and Ester and Erik candles have such a sophisticated range that there's no table-scape they can't enhance. This extensive colour palette is available through The Luxe Collection and we're always on hand to help you select the perfect candle colour to work with your wedding theme.
For weddings, the blush tones of rose, cherry and melon are very popular, along with shades of white and cream, but winter celebrations can be made dramatic with cherry or wine coloured candles, or deep shades of pine or amethyst, while summer receptions can be enhanced with sunshine yellow and honey tones. But with Ester and Erik candles UK, there is no limit to the ways you can use candles as part of your decor – their hand-crafted candles are carefully made to fit into most candle-holders and they are self-extinguishing (although you should never leave candles unattended). We've chosen them in part because they work especially well with our range of candlesticks for hire, allowing you to define precisely how you want your special occasion to be lit.
To make the best of your Ester & Erik candles, we recommend keeping the wick short, ensuring you place your candles at least 10cm apart so they don't affect each other's burn pattern and try not to place them in draughts or above radiators.
We have all Ester & Erik 32cm tapered matt candles in stock.
Read More